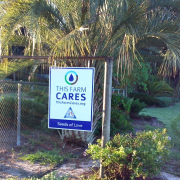 Ecology Florida Feature by Don Saunders
Friendship Farms & Fare Partner, "Seeds of Love" Organic Farm, was awarded CARES Grower of the Year for their best management practices for use of water earlier this month at the Strawberry Festival Grounds in the Charlie Grimes Building, Plant City. CARES is the acronym for County Alliance for Responsible Environmental Stewardship, and here is a link to the alliance website: http://www.floridafarmbureau.org/programs/cares
Especially, notable is that of the 500 or so farms recognized by the Florida Farm Bureau over the past years "Seeds of Love" is the smallest to earn the distinction. "I was very proud to stand with the 13 others who were all large, old family farms," shared Christine Grovenstein, owner of Seeds of Love. The honor is presented to recognize Florida farmers and ranchers for voluntarily going the extra mile in conserving natural resources. The award highlighted her commitment to superior resource management.
The CARES program was established by Florida Farm Bureau and the Suwannee River Partnership in 2001 to recognize superior natural resource conservation by agricultural producers. Since its inception, more than 550 agriculturists statewide have received the CARES award. The program relies on the voluntary action by farmers and ranchers to implement state-of-the-art natural resource management systems, or Best Management Practices (BMP), on their properties. CARES award winners have received certification from the Florida Department of Agriculture and Consumer Services that their farming operations have successfully met state BMP standards.
Don Saunders is an Adjunct Instructor in the Department of Religious Studies at the University of South Florida. He is Vice-President of Ecology Florida.
Did you find this information helpful? If you did, consider donating.