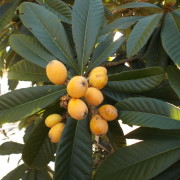 The Florida Loquat Festival: Celebrating Florida's Urban Fruit
Inaugural Event April 5, 11:00 – 2:00 Market Off Main, New Port Richey Hosted by Market Off Main, Ecology Florida, and Friendship Farms & Fare
The Inaugural Florida Loquat Festival is a learning and sharing event dedicated to expanding knowledge and appreciation of the Loquat Tree and its fruit. Presentations will be from 1:00 to 2:00.  These will include instructions on growing and cultivation of Loquat trees, how to eat its fruit, and recipes based on loquats. Also featured will be tasting samples and a presentation on the cultural context of this often overlooked Florida fruit-bearing tree.  Event will include live music. Loquat seeds, saplings, and young trees will be available for purchase.  Loquat food products will also offered, including compotes, preserves, and other specialties. The Florida Loquat Festival is hosted by Market Off Main, Ecology Florida, and Friendship Farms & Fare.
Market Off Main is open from 8:30 AM to 6:00 PM
6214 Lincoln St New Port Richey, FL 34652
The Market Off Main (http://www.marketoffmain.com/) is community market and cultural center in downtown New Port Richey. It features fresh produce, a delicatessen and kitchen, with outdoor seating in a beautiful riverfront setting.
Ecology Florida is a not-for-profit educational organization dedicated to the harmonious integration of natural, cultural, and economic ecologies.
Friendship Farms & Fare (http://www.fffsite.org/) is a Community Supported Agriculture (CSA) project located in New Port Richey, with subscribers throughout the Tampa Bay Region.
Did you find this information helpful? If you did, consider donating.