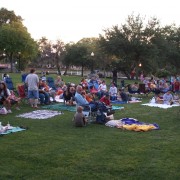 Last Friday several founding members of Ecology Florida ventured out into the warm evening air to meet the Citizens of New Port Richey. As the sponsors of the Free Movie Friday event, Ecology Florida helped to show that learning about saving our planet and being aware of the impact of our actions, can be a fun and lighthearted affair.
It was great to see such a large segment of the population coming together in the spirit of community and we hope to see the City of New Port Richey continue to offer these kinds of activities for that reason.
We had several people ask us about how they could get involved in volunteering their time to clean up the City or help with community events, so if you live in or around New Port Richey, we would recommend you visit wwww.DiscoverNPR.com to get in touch with the City's Cultural Affairs Advisory Committee.
Did you find this information helpful? If you did, consider donating.