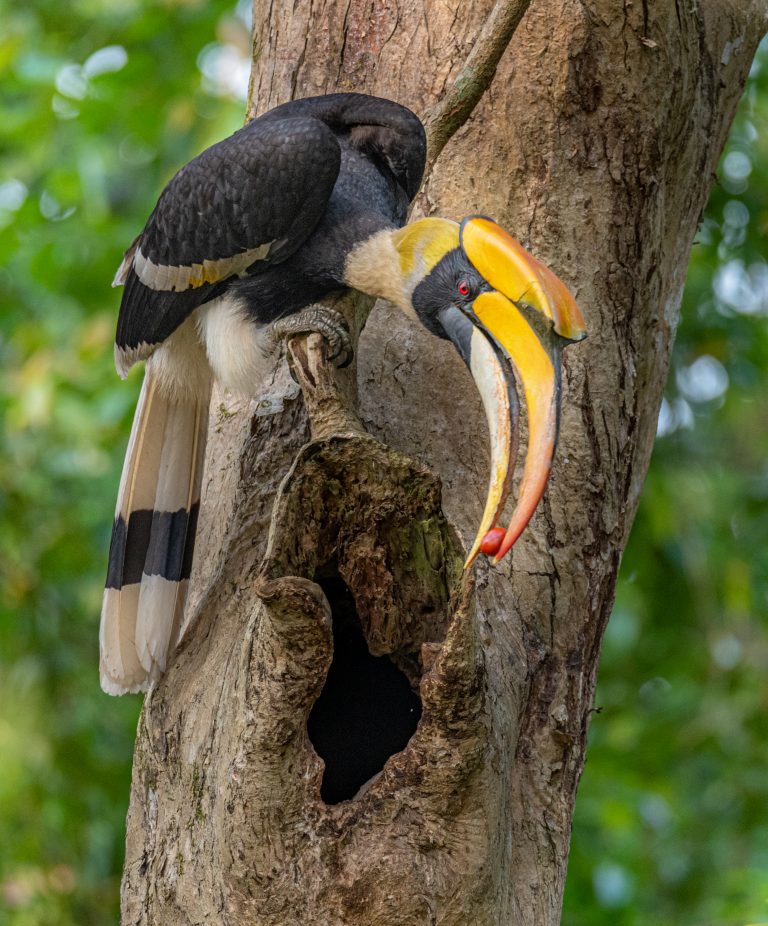 by Monica Starr
April 2022 
An Ecology Florida Feature
Advancements in 3D-printing technology has been represented in the medical community all over the world. Most recently in Tampa, researchers were able to save a resident that developed a fatal form of cancer. Crescent is the 25-year old female hornbill who currently resides at ZooTampa. After developing an often fatal cancer on her beak called squamous cell carcinoma, her caregivers decided to fight to find a solution to this problem. 
Specialists from the University of South Florida and Tampa General Hospital collaborated to first remove the cancer lesion. During this procedure, Crescent was anesthetized and a CT scan was conducted which revealed that the lesion was more extensive than previously thought. The scan showed a large tumor that was located near the back of her casque, very close to the skull. Because of these circumstances, it seemed that the only solution was to completely remove the tumor. Experts from both facilities agreed that this was the best chance of success, but they faced another problem. When the cancer was removed, the bird's sinuses would be exposed which could led to even more health issues. The associate veterinarian at ZooTampa, Dr. Kendra Baker explained that this type of tumor is usually found near the front of the skull, but Crescent's tumor was located in the back. This resulted in some creativity from researchers to properly remove the tumor without causing more problems. 
The research team came up with the idea to print and design a 3D-casque for Crescent. This is the first time that this has ever been done in the United States and just the second time it has been done internationally. The prosthetic beak needed to be lightweight, hard and durable for the great hornbill. After the tumor was removed, surgeons used dental acrylic to apply the new beak and then the beak was permanently attached with titanium screws. This prosthetic is designed to cover her sinuses and she now has full use of her beak. 
This is a great win for species listed as vulnerable by the International Union for Conservation of Nature, like the hornbill. Using technology like 3D-printing for environmental conservation is a great way to show how connected each sector is. The researchers involved in this project showed innovation and creativity. The dedication to various species at ZooTampa is inspiring and moving forward we will continue to see this type of research in order to preserve and protect species all over the world. 

Monica Starr is the Public Communications Facilitator for Ecology Florida News. Monica is a graduate student at the University of South Florida studying Global Sustainability.

Did you find this information helpful? If you did, consider donating.