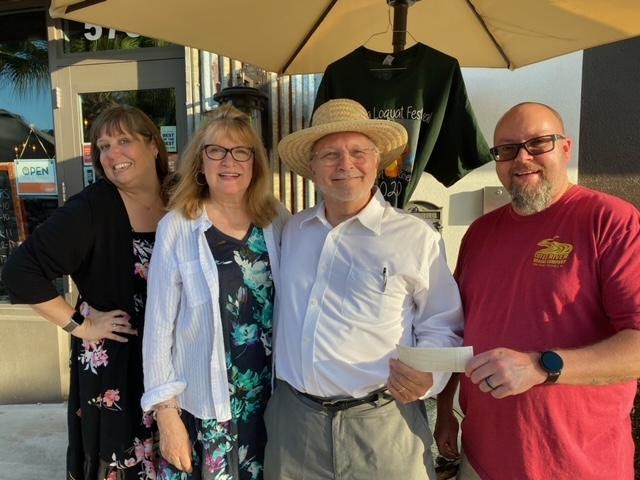 Florida Loquat News
The Newsletter of The Florida Loquat Festival
Celebrating Florida's Urban Fruit
No. 41
June 25, 2021
Published by Ecology Florida and Friendship Farms & Fare
https://www.ecologyflorida.org/
Here is Your Summer issue of the Florida Loquat News
Big Success for 2021 Loquat Beer
Ecology Florida and New Port Richey FarmNet received a generous contribution from Cotee River Brewing Company in affirmation and support of the Florida Loquat Festival – the only loquat festival in America and New Port Richey's premier local-fruit festival.  
As part of the annual festival, every year, Bryan Hackman (proprietor of Cotee River Brewing)  brews up a special Loquat Beer, using fresh loquats from the seasonal harvest.  Volunteers harvest the fruit for Bryan and the festival promotes the brewery.  At the end of the festival (and when the beer runs out), Bryan shares a portion of the income from the beer sales with Ecology Florida and New Port Richey FarmNet.  This relationship is an excellent example of a healthy locally-based economic ecology, and the creative (and fun) synergy that is at the heart of the agrarian community model. 
Even though the event was cancelled in 2020, volunteers from the Loquat Festival delivered enough loquats for the bar to sell 921 pints to customers.  This year, in conjunction with the festival, 569 pints were sold and the day of the festival.  This was the brewery's best day for sales since the pandemic began.  In celebration, Cotee River shared a portion of its income with Ecology Florida.
The image on the cover of this issue was taken during the check presentation.  Here is another, featuring Jacob Freid, the Marketing Director for the City of New Port Richey.  Also in the photo is Dell deChant and Bryan Hackman.
For more information about New Port Richey FarmNet and the Florida Loquat Festival, please send your inquiry to the FarmNet Facebook page or the Florida Loquat Facebook page.
Seventh Annual Loquat Festival
 Four-Day Mini Festival in New Port Richey  
As most subscribers know, the seventh annual Florida Loquat Festival was a smaller event than usual – actually four small events.  Nearly a thousand pounds of fruit was harvested, with most being used for preserves, pastries, and (as noted) beer.  
The mini festival was held at various locations in downtown New Port Richey with a few hundred folks attending.  
The 2021 festival rolled out at three markets and the Cotee River Brewery.  The markets were at Wright's Natural Farmers' Market, Tasty Tuesday Farmers' Market, and Rose's Bistro's Loquat Festival Market.  Cotee River Brewery had a special Loquat Day when the 2021 loquat beer was released.
All told, at the four "mini-festivals," several hundred pounds of fresh loquats were sold.  In addition, there were sales of about 200 jars of preserves from four different cottage producers, and a large quantity of pastries.
Eighth Annual Loquat Festival Planned
March 19, 2022 
At this point, we are aiming to hold next year's festival on March 19, 2022.  We will keep you up to date on plans as they develop.  In the meantime, send a donation for one of our festival t-shirts.  
Folks are suggesting that $20 for a shirt is a reasonable donation. 
You can send the donation to: 
Ecology Florida 
PO Box 596
New Port Richey 
FL 
34656-0596
Here is a great shot a couple of our good friends, enjoying the shirts and some loquat beer.
Subscribe To Florida Loquat News & Tell Your Friends
Go to the Ecology Florida website to sign up for Loquat News or find the Loquat Festival  on facebook. If you know of others who might like to learn more about the loquat and our festival, send them the link or direct them to our facebook page.  
We publish Loquat News periodically – 4-6 times a year (sometimes more).  The News has updates on the festival and the seasonal progression of the trees.  We like to share reports from folks who are nurturing trees on their property.  From time to time we'll feature growers, grove curators, nurseries, and preserve producers.  You might see an editorial from time to time, and even a little whimsy.
Here's how to reach us and enter a subscription:
https://www.facebook.com/FloridaLoquatFestivalNewPortRichey/
https://www.ecologyflorida.org
Growers' Update 
2021-2022 Season Report
What to look for in the next few months: new leaves mature, buds appear, then flowers, and first fruitlings. By now, the new leaves put out in the early spring are beginning to mature. Buds should begin appearing in July and August. 
Our first buds appeared in early June, around the same time as they appeared last year.  This is much earlier than has been the normal, and (again) one of the earliest buddings in our records.  As a matter of fact, by the end of June, we had flowers on some trees, and even a fruitling.
With buds now or soon appearing, and looking ahead, growers should be alert to the first flowers – the signal of the commencement of the fruiting cycle.  
Flowers may appear as early as June, and we have seen a few already.  The earliest we've had flowers at Friendship Farms & Fare is June 20.  
Once flowering starts, it will continue throughout the summer and into the fall, which means significant fruiting will begin as early as late fall and continue through early spring – with a single tree bearing fruit for two to three months.  
The first fruitlings appear a little more than a month after the flowers. Look for them in July and August. Actually, at the EMG gardens, we have fruitlings already.
We've noted that development tends to vary, which we attribute to weather conditions and increasing heat due to global warming.  In our experience, above normal heat, lack of rain, and arid conditions (as we are having this year) seem to accelerate maturation and quantity of fruit.  In contrast, more rain, overcast conditions, and cooler temperatures slow maturation and quantity of fruit.   
At Friendship Farms & Fare and East Madison Gardens we've planted two more trees – both East Madisons (our local variety). In total, we now have 38 trees in our orchards.  We look forward to another prosperous year.
Seed Starts and Seedlings: Wait two months
. 
One of the more persistent questions we receive concerns germination of loquat seeds.  In our experience, seeds from locally established varieties of loquat trees germinate in just about two months.  Almost like clockwork, two months after planting the seed, the first tender shoot appears.  
Also, on the basis of our experience, trees grown from seed mature and produce true to their parent.  Cultivars are another issue, and seeds from them may not germinate.  
The main guidance given here is to give the seeds at least two months to germinate.  To be sure, we suggest waiting three months.  So many have reported being dissatisfied with their seeds not germinating, only to learn that they gave up weeks before germination would have occurred.  
Thanks to All For The Sustaining Support
As we look ahead and begin developing plans for the rescheduled 2020 Florida Loquat Festival, we remain most appreciative of all in the community who have supported the mission and vision of the festival.  We would not be able to do this without the strong and sustaining support from numerous organizations, businesses and individuals.  Special and sincere thanks go to our exclusive sponsor (Suncoast Credit Union), and the many supporting contributors.  
Exclusive Sponsor
Suncoast Credit Union
Founders & Hosts
Ecology Florida
Friendship Farms & Fare
Premier Supporter
City of New Port Richey Cultural Affairs Committee
Major Event Supporters
The Hook Law Group
S.I. Electric
The Cotee River Brewing Company
Contributing Event Supporters
Jones & Company CPAs PA
The Central
The Judi Pobst Team
Hanson Art & Design 
Patrons of the Festival
Maharajh Acupuncture & Herb Shoppe
Wright's Natural Market 
The White Heron Tea & Gifts
City of New Port Richey Environmental Committee
City of New Port Richey Parks & Recreation Department
City of New Port Richey Public Works Department
New Port Richey FarmNet
Habitat for Humanity Pinellas and West Pasco
NewsPortRichey 
Support Opportunities Available
If you or your business would like to support next year's festival, please let us know, and we'll send you our supporter package.  You can contact us through the Ecology Florida website or the Loquat Festival facebook page. If you leave a phone number, we'll give you a call.  
https://www.ecologyflorida.org/
https://www.facebook.com/FloridaLoquatFestivalNewPortRichey/
Thank You
Your interest and support of loquats and the Florida Loquat Festival is appreciated. Thanks for being part of our mission to increase awareness, appreciation, and use of "Florida's Urban Fruit." 
Please share this newsletter with others you know.  For information on supporting our work, see the contact addresses and link earlier in the newsletter.
Did you find this information helpful? If you did, consider donating.