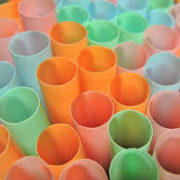 Part I of a three-part series on plastics
an Ecology Florida Editorial
A trending ecological initiative is the contra-straw movement.  USA Today has a good short article on the "anti-straw movement," and Fast Company has an article about cities that have banned or are considering banning the plastic drinking tubes.  As it pertains to Florida, the movement has had a strong foundation here for some time, a south Florida television station (Local 10 News, ABC)[1] has a nice summary of contra-straw work in state, dating back to 2012, when Miami Beach banned the straws, noting that, as of then:
SeaWorld in Orlando has banned drinking straws for years. In South Florida, guests at Zoo Miami aren't allowed to have them and concession stands don't provide them. Straws are also banned at the Miami Seaquarium, where scientists fear they could hurt marine life.
Fort Myers has also banned plastic straws, and there are initiatives surfacing around Florida, the nation, and the world.  As always, there is resistance and push back. Such is the nature of our culture today. The great plastic straw debate now enters the arena with climate change, gun violence, immigration, and other topics of cultural contention.  As with the other hot topics, there is an information avalanche and a proliferation of data – and well-known pro and con agents. As the USA Today article notes, there is controversy surrounding how many plastic straws are even used, with the most common figure being 500 million per day (first reported by 9-yearold Milo Cress):[2]
That figure has become highly touted since, referenced in straw ban coverage from The New York Times and National Geographic to reports from the National Park Service (and USA TODAY).
However, with national coverage of Cress' statistic came criticism: Conservative-leaning outlets such as Fox News, Washington Examiner, and Reason, aimed to debunk the figure.
As others have observed, we live in a post-data world, and it is fascinating to observe how heated debates become over data points, when the positions are so rigidly fixed that differences in data would change nothing, and if there was even a hint that data might challenge a particular position, the data itself would be rejected – to protect the sovereignty of the position.
Is it 500 million straws per day or 200 million or 10 million?  What ever the figure, we know it is a lot, and it matters little just how much.[3]  The point is, we are using a vast number of plastic straws, every day – and it appears reasonable to suggest that we are using more than is necessary for a healthy, productive, satisfying life.  If we need a straw for something, paper straws are available. If there is a pressing security or health issue for which a paper straw will not suffice and only a plastic straw is acceptable, we can certainly produce such specialized instruments for specific challenges – but 500 million a day?  Let's go with the paper.
Sources
[1]https://www.local10.com/food/miami-beach-bans-drinking-straws_20151127184558796
[3]https://www.usatoday.com/story/news/2018/07/18/anti-straw-movement-based-unverified-statistic-500-million-day/750563002/
[3]https://www.usatoday.com/story/news/2018/07/18/anti-straw-movement-based-unverified-statistic-500-million-day/750563002/
Did you find this information helpful? If you did, consider donating.