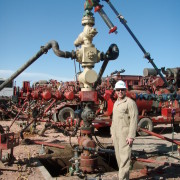 ECFL News, Editorial
Florida's Public Service Commission (PSC) has the opportunity to act in the best interests of Florida's environment and its citizens.  The PSC is the agency tasked with regulating fees and rates charged by utilities that operate in the state.  Florida Power and Light is petitioning the PSC to be allowed to charge customers for its pursuit of environmentally damaging fracking projects.  Food & Water Watch, which advocates banning fracking, explains that:
Fracking, also called "hydraulic fracturing," is a destructive process that corporations like Halliburton, BP and ExxonMobil use to extract natural gas and oil from rock that lies deep underground….Fracking is exempt from major environmental laws, including the Safe Drinking Water Act, and spills and accidents are far too common. [1]
Recent articles indicate that another major power supplier (Duke Energy) will likely make the same fracking request if FPL is successful.
Readers will recall that Duke has already benefited from the state allowing it to collect fees from customers for a failed nuclear powered electric plant in Levy County.  As reported in the Tampa Bay Times, critics find the fracking proposal similar to the Levy county deal, which cost Duke's customers $1.5 billion. [2]
So do we.  We also agree with Mark Cooper (from the Vermont Law School), who observes that granting the request of FPL and Duke is a form of "national socialism," in which the power companies are given government sanction to force rate-payers to assume the corporations' risk.[2] 
We urge the Florida Public Service Commission to reject FPL's request to charge customers for venture-fracking projects.  This is the right course of action for the citizens of Florida and the environment.
References and Resources
[1] From Food & Water Watch, "Fracking"
[2] From Tampa Bay Times,  "FP&L considers charging customers to explore fracking; Duke Energy could follow suit"
[3] From Charlotte Business Journal, Duke Energy eyes Florida case on utilities and fracking"
Did you find this information helpful? If you did, consider donating.