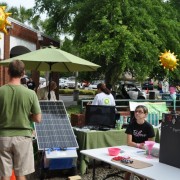 Be sure to mark your calendars for Saturday, April 20. The City of New Port Richey's Environmental Committee is hosting its third annual Earth Day event in the breezeway between City Hall and the Public Library. We will be there from 10 am to 2pm with information about living sustainably in our community. We will be joined by Solar Independence, Suncoast Co-Op, Environ/Mental, Your Fresh Chef, Janda's Jungle, and many more.
It will be a fun day filled with community and the spirit of change. We look forward to seeing you there!
Did you find this information helpful? If you did, consider donating.