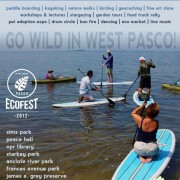 This weekend is the Pasco EcoFest (www.PascoEcoFest.com) taking place in West Pasco and the city of New Port Richey. We're excited to be participating in this event as sponsors of Saturday's EcoMarket in the breeze-way between City Hall and the New Port Richey Public Library.
Our Board President, Dell deChant, will also be giving a presentation titled, Nearby Gardens of the Soul: Local Dimensions of Ecology inside the Library.
Please join us for this fantastic event that showcases the best West Pasco has to offer in the way of arts & culture, ecology and community. Find Pasco EcoFest on Facebook to get all the latest info!
Did you find this information helpful? If you did, consider donating.