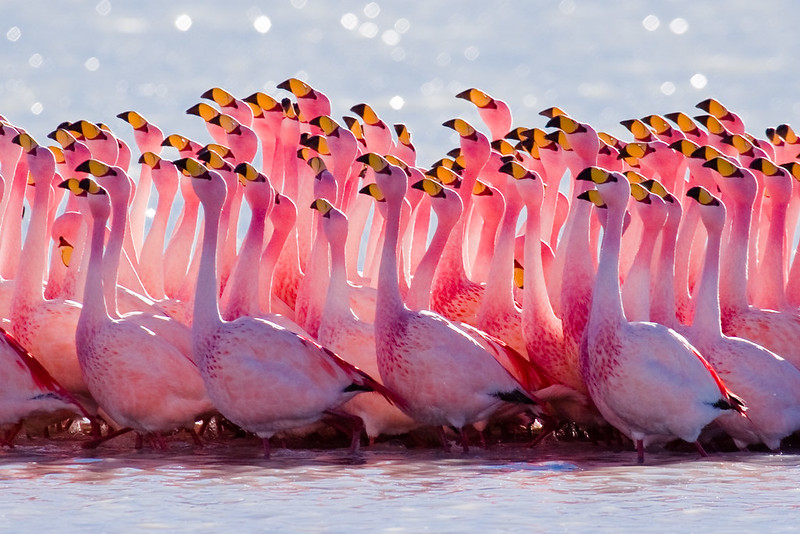 by Monica Starr
An Ecology Florida Feature
February 2022
Like many residents of the state, flamingos were once thought not to be native Floridians. There are six species of flamingos worldwide, but only the American flamingo is native to North America. These bright pink birds can be four to five feet tall and have thriving populations, especially in areas like the Caribbean, South America and Mexico. National Geographic explains that these species are not currently in danger of extinction, but they have phased out of North America over the years. 
A recent study explains that flamingos are indeed true residents of Florida, which has created some controversy. During the 1800s, it was commonly accepted by ecologists that flamingos were native to Florida. By the 1900s, these beautiful creatures had been hunted for food, skins, and feathers almost to the point of vanishing. A recent study about the history explains that the population of flamingos in Florida are starting to recover. For example, in 2014 residents of Palm Beach Country saw a flock of almost 150 of the bright pink birds. 
The issue is controversial when it comes to state and federal protection. Since the population of flamingos had been so low for so long, sources identified them as nonnative.  Despite the controversy, recent studies can help the flamingos regain their official status as native species, allowing them to be protected and managed by both state and federal agencies. 
Another example of the birds re-appearing occurred in 2015 when a wild flamingo was found wandering around Key West. Eventually, Conchy the flamingo was captured by the Miami Zoo and examined. Unfortunately, he was suffering from liver damage due to his feeding in a polluted body of water next to a local restaurant. Luckily, thanks to the efforts of the zoo, he made a fully recovery, but there issues related to his release. Conchy was found on American soil, but when researchers tried to release him in Florida, the state blocked the release because flamingos were still not recognized as native to the state. After this decision was blocked, scientists then presented two other examples of flamingos that migrated to Florida Bay from the Caribbean. That's the thing with animals, they do not recognize state or national borders and naturally wander wherever they want. After this realization, the state decided to reverse its original decision and Conchy was released in 2015 with a GPS tracker to watch his movements. For over two years, the bird did not leave the state of Florida, which shows that this environment is a sustainable habitat for these creatures. 
Since 2015, scientists in the sunshine state have seen a slight increase in the flamingo population, but there is still thought to be less than 1,000 in the state. In 2018, flamingos were officially recognized as Florida natives, but in May 2021 Florida wildlife agencies declined to grant them protections, which would have included management and monitoring. The argument was that conservation efforts in South Florida are already sufficient. Their status can be changed if enough permanent flamingos are documented in the state. Organizations like the Florida Flamingo Working Group are engaged collecting data to support upgrading their status. Conservation efforts in the Everglades will improve the habitat quality for these wading birds moving forward. 
Sources
https://www.nationalgeographic.com/animals/article/floridas-flamingos-disappeared-decades-ago-that-may-soon-change
https://www.nationalgeographic.com/animals/article/birds-animals-flamingos-florida-native
Monica Starr is the Public Communications Facilitator for Ecology Florida News. Monica is a graduate student at the University of South Florida studying Global Sustainability.
Did you find this information helpful? If you did, consider donating.