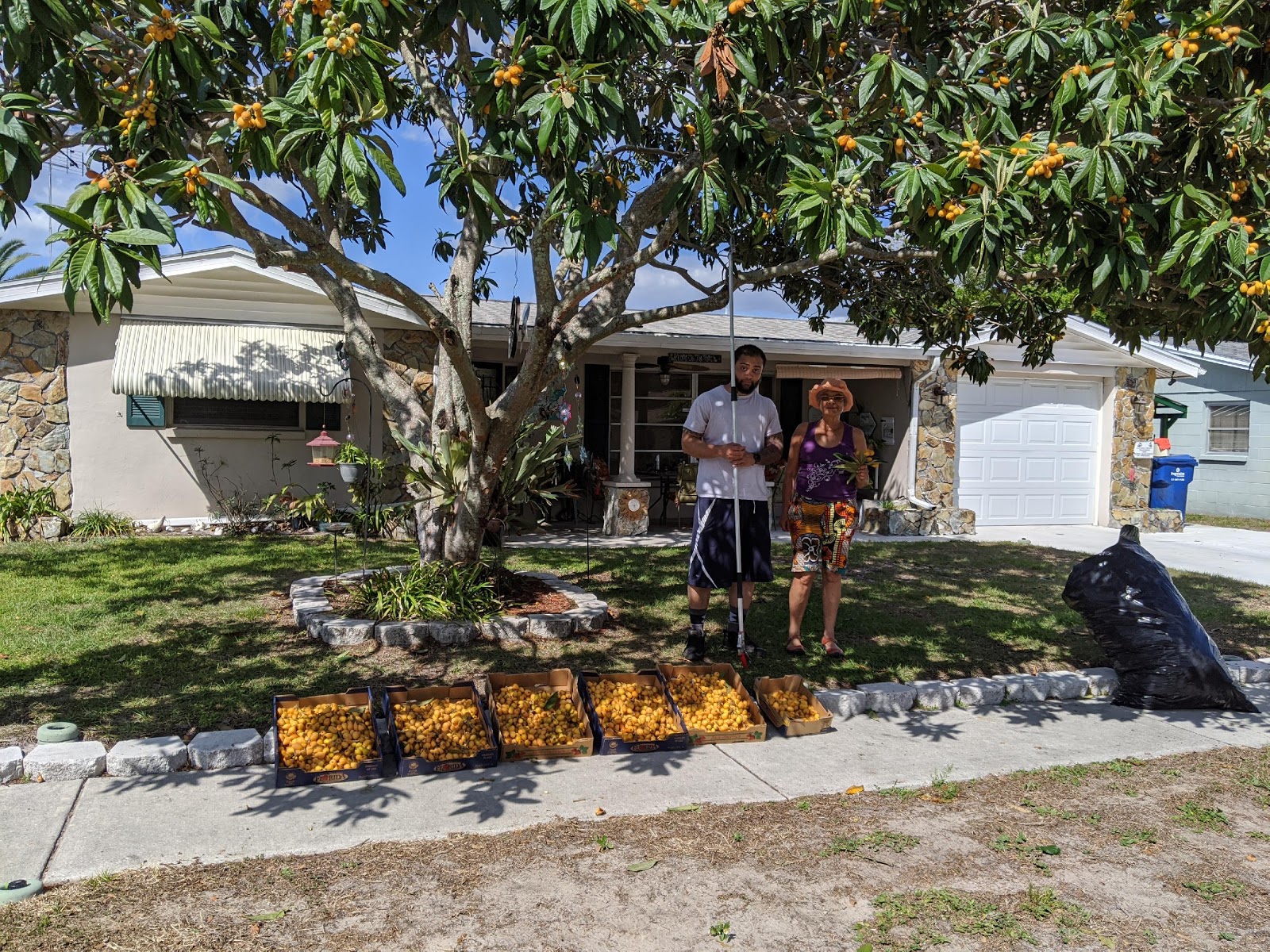 Florida Loquat News
The Newsletter of The Florida Loquat Festival
Celebrating Florida's Urban Fruit
No. 40
July 6, 2020
Published by Ecology Florida and Friendship Farms & Fare
https://www.ecologyflorida.org/
Here is Your Summer issue of the 
Florida Loquat News
2020 Annual Loquat Festival Postponed
See inside for update on plans for the rest of the year, news of next year's event, opportunities to participate, educational resources, and growers' updates.
Seventh Annual Loquat Festival
Still Possible
As most subscribers know, the seventh annual Florida Loquat Festival has been postponed due to the COVID-19 pandemic and continuing cultural challenges related to the persistence of the virus.  At this point, we are aiming to hold the festival (sans fruit) in the early fall – most likely in conjunction with the another seasonal festival (the Okra Occasion or Sweet Potato Roundup). It is possible that all three could be combined into a single event. The only missing feature for the Loquat Festival would be (well) the fruit itself.  We will have access to preserves, pastries, seedlings, tea, and trees. We'll also have the great promotional t-shirts (modeled on the cover of this issue). We will also be able to have the poetry festival.  
At this point, we are awaiting guidance from the City of New Port Richey (and the state, if necessary) on if and how events will be permitted. It is likely that having large-scale events will not be allowed.  Here are the CDC guidelines for gatherings:
https://www.cdc.gov/coronavirus/2019-ncov/community/large-events/considerations-for-events-gatherings.html
CDE guidelines are the gold standard for health and safety (for both individuals and communities). We encourage everyone to be familiar with the CDC guidelines, not just for events but also day-to-day activities.  Physically distant, avoid larger gatherings (especially indoor gatherings), wear nose and mouth coverings.  
Some Facts & Data
Even though we did not hold the festival in March, there was still considerable action associated with the fruiting season of Florida's urban fruit.  Harvesters reported bringing in over 600 pounds of fruit from trees in and around New Port Richey.  Those are just the recorded figures.  We had over 400 pounds from the East Madison grove alone.
From the fruit harvest it is estimated that 400 jars of preserves were prepared – and these are still available.  For a fact, over 500 pints of loquat beer were brewed at the Cotee River Brewery. In this regard, we share a special thanks to Cotee River Brewery, and proprietor, Bryan Hackman, for sharing $1 for each pint of loquat beer sold at the brewery.
Over 20 artists prepared works of art for the art show (which may still go on), and dozens of poets from around the country prepared poems for the Loquat Literary Festival and Leaves of Loquat – the only loquat literary journal in America.
The Loquat Literary Festival
Speaking of the literary festival: We again had a large number of entrees, with submissions coming came from around the America, and a few from other countries. Winners were:
First Place:  Richard Weissman, "Mountain Bird and Loquat"
Second Place: Wendy Buffington,  "Remembering Virginia Avenue"
Third Place: Diane L. Akins,  "The Japanese Plum"
As is the policy of the Loquat Literary Festival, all writers who read at the festival have their work published in Leaves of Loquat. This year, we will make an exception and publish those authors who would have read at the festival. The 2020 issue of Leaves of Loquat will be the sixth edition.
Loquats In South Carolina: Introducing Vincent Lendaki
Before leaving our review of loquat events earlier this year, we want to take a moment in introduce you to our friend, Vincent Lendaki.  
Vincent, a resident of Charleston South Carolina, crafts a brew called Broquat, made from loquats.  Vincent traveled south to join in the harvest this year and came away with over 100 pounds of fruit – to get started on his brewing.  
Vincent reminds us all that loquats are not just found in Florida, but can be found as far north as the middle south, especially along the coast.  
Wait: What About the Trees?
A Special Message About GreenDreams
https://www.greendreamsfl.com/
Glad you asked.  There are plenty of trees available for all who desire to join the growing ranks of loquat growers in Florida.  
We are happy to inform everyone interested in acquiring trees, and even starting a grove, to get in touch with the festival's featured nursery, GreenDreams – A Sustainable Solutions Company.  
If we are able to hold a festival, we'll have trees available for purchase.  But why wait – especially since there may be issues in travel and scale.
Best bet will be to get in touch with GreenDreams and its proprietor, Pete Kanaris. Long a supporter of the festival and our featured nursery, GreenDreams has a wide assortment of loquats in all sizes from seedlings and saplings to large trees.  GreenDreams is a major force in the sustainable food and culture movement, offering a wide assortment of organic fruit trees, suitable for Florida growing.
As for loquats, GreenDreams offers one of the largest and most diverse collections trees for sale in the USA. These include some well-known favorites, including:

Premier

Golden Nugget

Bradenton

Oliver

Champagne

Sherry

Yehuda
You'll also find the rarer varieties like the Yehuda and some very unique cultivars.  Of special note, will be uncommon varieties: Novak, Avri, Wolf, and Pelchue.  
Most of the grafted trees from GreenDreams will bear fruit in their first year. Three-gallon trees are 3-4 feet tall and slim (for $45).  7-gallon trees are 4-6 feet tall and full (for $65).  GreenDreams also has seedlings (for $5).

Growers' Update I
2019-2020 Season Report
If you were growing loquats in the 2019-2020 season, your harvest was probably very heavy.  That was the case for the groves at Friendship Farms & Fare and East Madison Gardens – our two main loquat orchards.
2020 was the second consecutive year of high yields, and only the second one since 2016.  We would have had an abundance of fresh loquats at the festival.  In 2017, you may recall, there was little fruit at the festival.  We had a warm winter and the fruit matured very early, leaving us with very little fruit for the festival.
In 2018, we also had less fruit for the festival than we would have liked, but for another reason.  The fruit ripened very late (coming in abundantly in the week just before the festival), leaving little time for harvest.  So, we had less fresh fruit than we would have liked.
2019 and this year were different. We'd like to say normal, but climate change makes that word obsolete.  What we can say, is that we had a wonderful harvest, throughout the entire 2020 season, with plenty of fruit from mid-February right through the end of March.  We harvested over 400 pounds from the Friendship grove and the East Madison grove, alone, and could have harvested much more if the pandemic had not limited volunteer availability.
We are all reminded that the Loquat Festival is a celebration of seasonal fruit grown in and around the Springs Coast Watershed.  The quantity of fruit at the festival is based largely on regionally available production. Later in this edition, will be further details on the 2019 harvest and where we stand looking ahead to 2020.
Subscribe To 
Florida Loquat News
 & Tell Your Friends
Go to the Ecology Florida website to sign up for Loquat News or find the Loquat Festival  on facebook. If you know of others who might like to learn more about the loquat and our festival, send them the link or direct them to our facebook page.  
We publish Loquat News periodically – 4-6 times a year (sometimes more).  The News has updates on the festival and the seasonal progression of the trees.  We like to share reports from folks who are nurturing trees on their property.  From time to time we'll feature growers, grove curators, nurseries, and preserve producers.  You might see an editorial from time to time, and even a little whimsy.
Here's how to reach us and enter a subscription:
https://www.facebook.com/FloridaLoquatFestivalNewPortRichey/
https://www.ecologyflorida.org
Growers' Update II
2020-2021 Season Report
First Buds Appear June 8, 2019
What to look for in the next few months: new leaves mature, buds appear, then flowers, and first fruitlings. By now, the new leaves put out in the early spring are beginning to mature. Buds should begin appearing later this month, if they have not already appeared.
Our first buds appeared in early June, around the same time as they appeared last year.  This is much earlier than has been the normal, and (again) one of the earliest buddings in our records.  As a matter of fact, by the end of June, we had flowers on some trees, and even a fruitling.
With buds now or soon appearing, and looking ahead, growers should be alert to the first flowers – the signal of the commencement of the fruiting cycle.  
Flowers may appear as early as June, and we have seen a few already.  The earliest we've had flowers at Friendship Farms & Fare is June 20.  We do have buds, so we expect to see some flowers soon.
Once flowering starts, it will continue throughout the summer and into the fall, which means significant fruiting will begin as early as late fall and continue through early spring – with a single tree bearing fruit for two to three months.  
The first fruitlings appear a little more than a month after the flowers.  We've noted that development tends to vary, which we attribute to weather conditions and increasing heat due to global warming.  In our experience, above normal heat, lack of rain, and arid conditions (as we are having this year) seem to accelerate maturation and quantity of fruit.  In contrast, more rain, overcast conditions, and cooler temperatures slow maturation and quantity of fruit.  
At Friendship Farms & Fare and East Madison Gardens we've planted more trees – four locals, two Spring Hill Giants and two East Madisons. In total, we now have 32 trees in our orchards.  We look forward to another prosperous year.
Seed Starts and Seedlings: Wait two months.  One of the more persistent questions we receive concerns germination of loquat seeds.  In our experience, seeds from locally established varieties of loquat trees germinate in just about two months.  Almost like clockwork, two months after planting the seed, the first tender shoot appears.  
Also, on the basis of our experience, trees grown from seed mature and produce true to their parent.  Cultivars are another issue, and seeds from them may not germinate.  
The main guidance given here is to give the seeds at least two months to germinate.  To be sure, we suggest waiting three months.  So many have reported being dissatisfied with their seeds not germinating, only to learn that they gave up weeks before germination would have occurred.  
Update on "Spring Hill Giant" (2017)  Every harvest, we select seeds for starting at the nursery from the trees that produce abundant, large, and healthy fruit.  In 2017, we selected seeds from a beautiful tree in Spring Hill.   The variety was not identified, but we suspect it is a Gold Nugget or Bradenton – but it could also be a hybrid, as are many of the trees that flourish in the Springs Coast Watershed.  
Dubbed "Spring Hill Giant," we planted ten seeds in our seeding mix on March 27, 2017 and the first sprout appeared on May 29, 2017.  See note, above, on the typical two-month germination period.  Of the ten seeds planted, as of this issue (early July 2020), six have matured into a little collection of saplings about three feet high with unusually large leaves. We have now planted two of the Giants in the EMG grove – each about five feet high.
Thanks to All For The Sustaining Support
As we look ahead and begin developing plans for the rescheduled 2020 Florida Loquat Festival, we remain most appreciative of all in the community who have supported the mission and vision of the festival.  We would not be able to do this without the strong and sustaining support from numerous organizations, businesses and individuals.  Special and sincere thanks go to our exclusive sponsor (Suncoast Credit Union), and the many supporting contributors.  
Exclusive Sponsor
Suncoast Credit Union
Founders & Hosts
Ecology Florida
Friendship Farms & Fare
Premier Supporter
City of New Port Richey Cultural Affairs Committee
Major Event Supporters
The Hook Law Group
S.I. Electric
The Cotee River Brewing Company
Contributing Event Supporters
Jones & Company CPAs PA
The Central
The Judi Pobst Team
Hanson Art & Design
Patrons of the Festival
Maharajh Acupuncture & Herb Shoppe
Wright's Natural Market
The White Heron Tea & Gifts
City of New Port Richey Environmental Committee
City of New Port Richey Parks & Recreation Department
City of New Port Richey Public Works Department
New Port Richey FarmNet
Habitat for Humanity Pinellas and West Pasco
NewsPortRichey
Support Opportunities Available
If you or your business would like to support next year's festival, please let us know, and we'll send you our supporter package.  You can contact us through the Ecology Florida website or the Loquat Festival facebook page. If you leave a phone number, we'll give you a call.  
https://www.ecologyflorida.org/
https://www.facebook.com/FloridaLoquatFestivalNewPortRichey/
Thank You
Your interest and support of loquats and the Florida Loquat Festival is appreciated. Thanks for being part of our mission to increase awareness, appreciation, and use of "Florida's Urban Fruit."
Please share this newsletter with others you know.  For information on supporting our work, see the contact addresses and link earlier in the newsletter, and below.
——————————————————————————————————————–
Friendship Farms & Fare is a branch of Ecology Florida, a not-for-profit corporation.  Contributions to Friendship Farms & Fare and Ecology Florida are tax deductible.  To learn more about Ecology Florida, please visit the website: https://www.ecologyflorida.org/
If you would like to support our mission and individual projects, you may share donations through our website (https://www.ecologyflorida.org/) or at our mailing address:
Ecology Florida
PO Box 596
New Port Richey, FL 34656-0596
Friendship Farms & Fare affirms and advances agrarian ideals to reestablish a sustainable culture
Ecology Florida advances the harmonious integration of healthy natural, cultural, and economic ecologies to regenerate a sustainable world
https://www.ecologyflorida.org/
Ecology Florida, Inc. is a not-for-profit organization, with 501(c)(3) designation. Contributions to Ecology Florida, Inc. are tax deductable under section 107 of the Internal Revenue Code.  
Ecology Florida is a registered charitable organization in the state of Florida.  Registration number, CH 33333.  A COPY OF THE OFFICIAL REGISTRATION AND FINANCIAL INFORMATION MAY BE OBTAINED FROM THE DIVISION OF CONSUMER SERVICES BY CALLING TOLL-FREE (800-435-7352) WITHIN THE STATE.  REGISTRATION DOES NOT IMPLY ENDORSEMENT, APPROVAL, OR RECOMMENDATION BY THE STATE.
Established 2014
Founded and Hosted by
Did you find this information helpful? If you did, consider donating.